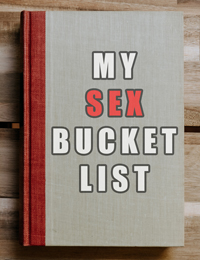 Having a bucket list that features an assortment of fun activities you want to try, and places that you'd like to visit in this lifetime, has become commonplace for people of all ages. If you're someone who loves to set trends amongst your family and friends, it's time to curate a special list that includes your sexual fantasies, fetishes and kinks.
A sex bucket list can help you discover what really turns you on, can stimulate your libido, and redefine your sexual identity. If you're single, you can use your list to expand your sexual repertoire and to impress the dates that you coax into bed. If you're partnered up and not satisfied with your love life, a sex bucket list can be a valuable asset, especially if you're looking to reignite the lust and passion in your relationship.
It's fun to create a list of sexual positions you'd like to try, along with explicit escapades that you can enjoy with or without a partner. It's entirely up to you whether you take up the challenge of ticking everything off your sex bucket list this year!
Here are 5 naughty ideas to inspire you to create your own sex bucket list:
Explore Your Sexuality
For many people, exploring sexuality barely extends beyond questioning whether or not they'd kiss or shag someone of the same sex. But sexuality is far more than simply identifying as straight, gay or bi.
Your sexual fantasies may feature wild, erotic, exotic, quirky or unusual kinks that you keep to yourself. Exploring these interests can help you learn a lot about yourself – physically, emotionally and psychologically.
You'll have a mind-blowing experience if you decide to add a visit to a dominatrix's dungeon, role-play master and servant sex games, or indulging in a golden shower or sploshing session to your 2023 sex bucket list. You can also discover that it's possible to take your orgasm to another level.
Upgrade Your Sex Toy Collection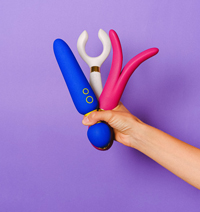 While it's now common for open-minded people to have an array of adult toys to play with in the bedroom, the selection is often high street predictable.
Your sex bucket should definitely include a special shopping trip to an upscale sex emporium. Pick out a gorgeous handmade glass dildo that will deliver unlimited thrills, or stimulate your sweet spot with a remote-controlled designer butt plug.
Rechargeable, wirelessly controlled devices are great for couples that enjoy sharing the pleasure discreetly in public spaces.
Hook Up With An Escort
Many men fantasise about having flirty phone sex or watching a hot cam girl get naked. Instead of keeping these erotic images in your head, add your interest to a sex bucket list, and hook up with a UK Escort who can help you explore them.
Take your pick from horny MILFs, lusty busty babes, and the best of British incall and outcall escorts that are waiting to satisfy you. If you have a secret thing for trannies, you can explore that too!
Have An Orgy
According to a recent sex study, 55% of couples have sex the first time they meet. While a one-night stand can indeed be a pleasurable experience that you want to repeat with multiple partners, you can always upgrade the hook up to a threesome and tick it off your sex bucket list.
Once you're comfortable with more than one partner pleasing you at the same time, you can attend a swinger's party or shoot your load at an orgy.
Express Your Wild Side
Sex is a fascinating topic, and the perfect outlet for expressing your wickedly wanton, wild side. On your sex bucket list, create a checklist of sexual activities to enjoy every week. DIY porn, spanking, tie and tease, humiliation, submission, domination, and BDSM are just a few of the things that you may want to try as an escort offering personal services.