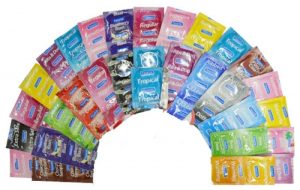 This is just one of the great condom deals from our friends over at www.condomoutlet.co.uk.
This Super Mix from Pasante is a must if you would like to test a bunch of different condoms at a fantastic price!
• 5 x Pasante Regular
• 5 x Pasante Infinity Delay
• 5 x Pasante Extra Safe
• 5 x Pasante Feel (Sensitive)
• 5 x Pasante Blueberry Blast
• 5 x Pasante Strawberry Crush
• 5 x Pasante Intensity
• 5 x Pasante Ribbed
• 5 x Pasante Cooling Sensation
• 5 x Pasante Naturelle
Whether you want your condoms sent to your home, office or another address Condom Outlet will always send the products in a discreet and anonymous package.
50 branded condoms, free discreet delivery for only £12.99. There really is no excuse for not always playing safe with such low prices like these.
Click to buy £12.99Pasante condoms - 50pk
Be sure to check out www.condomoutlet.co.uk to see their whole range of condoms and lubes.